Need Help?
P.O. Box 251 Siglap Post Office Singapore 914502
Email: contact@mix.sg
Phone: +65 96366834
Download
Optimising Your Virtual Events Experience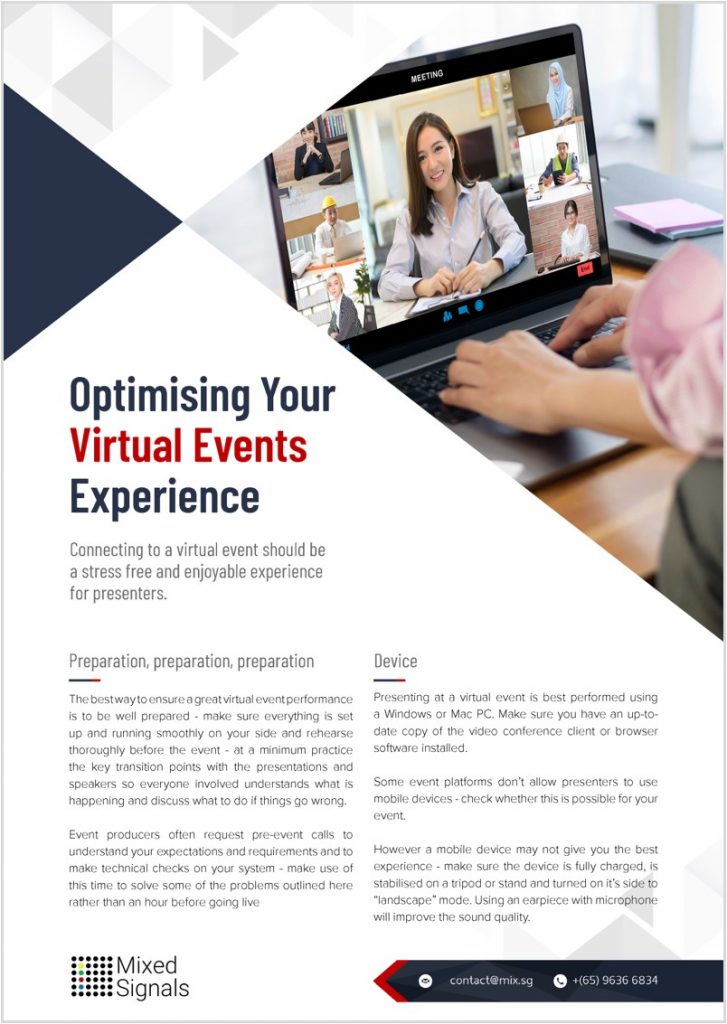 Download
Five Ways to Improve Your Virtual Presentations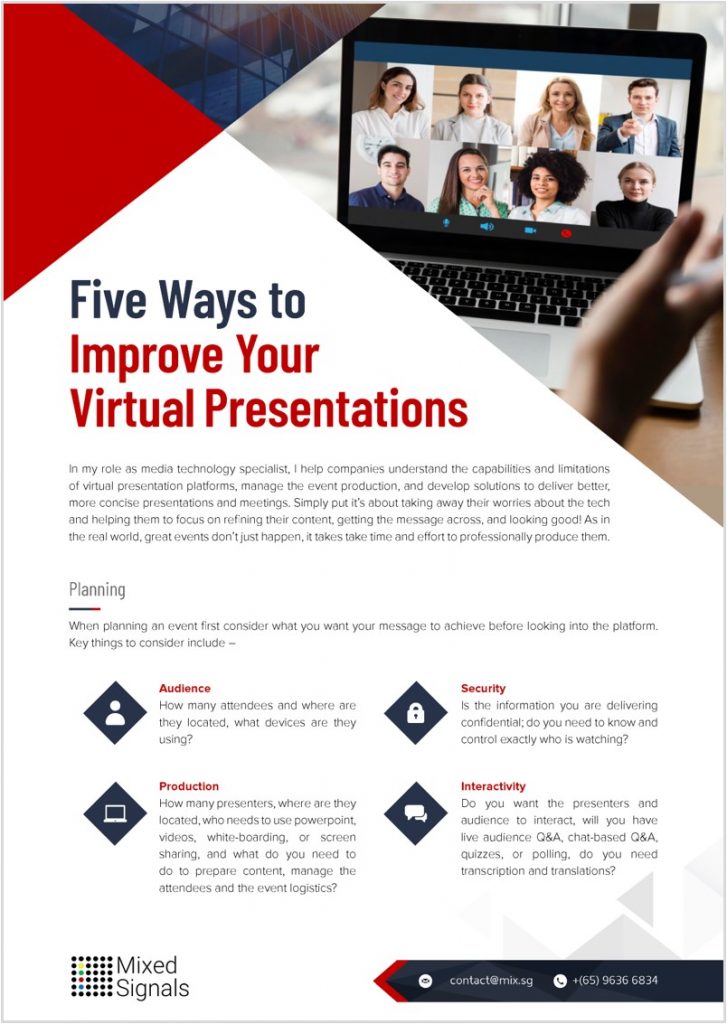 Mixed Signals – Behind the Streams
With many years experience in broadcast production and distribution, Mixed Signals has been developing interactive live streamed events with Asia Pacific and globally for nine years. We work across the corporate, entertainment and e-sports with global and regional brands in the TMT and financial sectors. We bring the same approach to all our projects, large and small – asking a lot of questions, developing detailed plans and rigorous testing. We leave nothing to chance so you can concentrate on delivering your content to your audience.

HOW MIXED SIGNALS CAN HELP IMPROVE YOUR LIVESTREAMS
Mixed Signals has delivered hundreds of live streams both to audiences of millions right down to events with a less than a hundred highly engaged participants and everything in between. Over the past 12 months as remote working and entertainment fundamentally changed our lives we have researched, developed and delivered better ways of managing remote connectivity, improving interactive experiences and integrated more cloud based platforms. We bring a high level of expertise, ingenuity and practical experience to help you deliver great livestreams.

CORPORATE COMMUNICATIONS
We work with companies to help them optimise their online video communication integrating existing and new platforms.

EVENT LIVESTREAMING
We've helped organisations deliver multi-camera, multi-location & remote productions with rock solid livestreams and real-time interactivity.

REMOTE STUDIO SETUP
Whether you want to improve your current webcam look or upgrade to a full studio, we can advise you on ways to improve your online presence.
LIVE STREAMING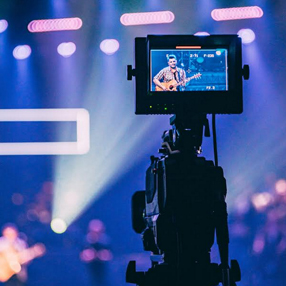 Live Stream Event Production & Delivery
Mixed Signals is not a one stop vendor, we're experienced in providing highly focused live streaming production support across different geographies and genre's of events and regularly work with multiple partners and stakeholders to tailor the most appropriate solutions and bring together the resources needed.
Over time we've moved from overlaying live streams on existing events to integrating more interactive experiences and now creating digital-first events We've been fortunate to work with clients who have challenged us to deliver new ways of connecting communicating and measuring. We've brought together elements from broadcast, AV, IT networking, AR, cloud platform and SASS vendors to support remote production teams, event participants and audiences in new ways and now moving into mor mixed hybrid experiences
Corporate Communications Consultancy
We work with your comms and IT teams to assess the requirements and resources available and tailor solutions to reach your audience. Then we'll  guide you through the setup, testing and rehearsals and advise on video and graphic approaches to bring a more rounded production look to your events.
If you're stuck within a Teams or Zoom ecosystem, we can advise on ways to improve your event productions or integrate alternative platforms. We work with IT to make sure everyone can access the chosen platforms and manage any interactive  elements required.
As the return to the office accelerates, we can advise on opportunities to bring in hybrid live and remote elements to level up your events.
Setting Up Your Studio for a Great Online Experience
If you're still relying on a standard laptop webcam and looking down at the screen, are you making the best impression in online meetings?
If people are saying "you're  blurry or breaking up" maybe your WIFI connection is struggling to handle your video call or your lighting is poor?
While you can generally see what you look like you've probably never heard what you sound like to other meeting participants?
We can advise on simple upgrades to your sound, lighting and internet; or take you to another level – build a broadcast quality studio and coach you so you'll look and sound consistently better – and help reduce Zoom fatigue as well!
Professional Coaching Support for Effective & Engaging Presentations.
The need to communicate effectively has never been greater than it is today. The days when an executive could just stand up in the front of the run and just 'wing' his presentation are over. Today senior leaders and managers need to be poised and confident in front of their audience, be it a live or virtual.
For individuals, clients, organizations looking to take their presentation delivery to the next level, learn more on how Live & Virtual Coaching for Presenters or Executive Presence Coaching can help you to bring your "A" game to every presentation.
About John Wigglesworth
John Wigglesworth has been in the Asian media technology industry for over 30 years. In a previous life he was involved in launching major TV networks in Asia including StarTV, MTV, Nickelodeon and Discovery.
Over the past eight years, he has moved into live streaming productions for events large and small in the corporate, entertainment and sports sectors. He has delivered small- and large-scale projects for YouTube FanFest, Google, Amazon Web Services, Facebook, Dentsu, Branded.live, Twitch.tv, HP, OnePlus, SingTel and several major financial services companies.
John currently works with clients locally and internationally producing remote events and securely interconnecting them for participants who are not able to travel out of country. These events are live streamed directly to participants mobile devices at home or in their offices.
For more information on taking your virtual meetings and live streaming events to the next level, John can be reached at contact@mix.sg
Need Help?
P.O. Box 251 Siglap Post Office Singapore 914502
Email: contact@mix.sg
Phone: +65 96366834
Download
Optimising Your Virtual Events Experience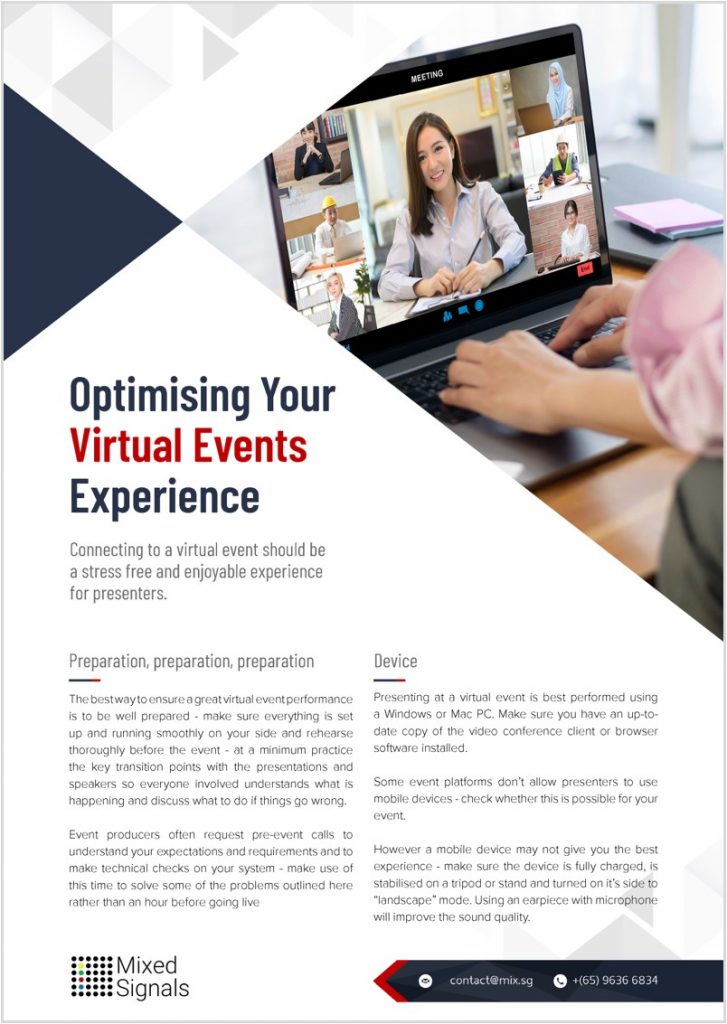 Download
Five Ways to Improve Your Virtual Presentations